Outdoor Living Spaces Lutz, FL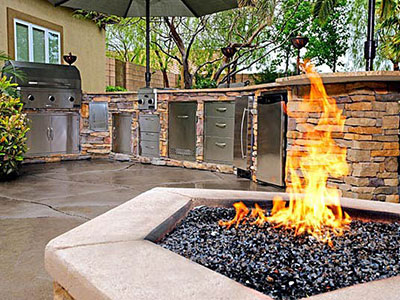 Creating beautiful and functional outdoor living spaces is the specialty of Border Creations, Inc. We are composed of professionals and experienced crews who have designed and installed countless outdoor features and amenities for residential properties in Florida. Our expertise in this field has been proven by numerous client testimonials from Lutz, Tampa, Brandon, and surrounding areas.
If you feel that your outdoors need some makeover to improve its looks or require additional features for it to be more functional, please call us at Border Creations, Inc. You may visit our Lutz, FL office or give us a call at 813-926-2700. Our friendly personnel will assist you in all your concerns.
Custom Features to Suit Your Needs
At Border Creations, Inc., we make exceptional outdoor living spaces by offering clients with custom designs and features. We collaborate with them to get their design ideas and preferences. This approach always results in beautiful outdoor amenities that speak highly of our client's personality and lifestyle.
For example, we install custom-built paver patio for those who want an elegant and relaxing outdoor space. Most of our clients from Lutz also prefer custom pergolas that are made from their chosen wood variety. We can also add or install other amenities that may be requested by the client. Some of the common additions include outdoor fireplaces and water features, such as waterfalls and ponds.
3D Outdoor Living Designs
We take pride in our ability to create stunning outdoor living designs for our Florida clients. Our 2D and 3D design tools help us create awesome outdoor living spaces. We make sure that our designs don't just make properties stand out but also make them more conducive to outdoor living.
You will also love our 3D design service since we allow design plan revisions. You can suggest new features or remove a certain amenity to enhance the functionality and aesthetic appeal of the proposed outdoor living space.
The Perfect Outdoor Living Features
At Border Creations, Inc., we help you choose the perfect outdoor living features for your home. With our lengthy experience in hardscaping and home improvement, we can easily identify the needs of your outdoor area and the features that will complement with your home's architectural design. We understand your desire to have a better outdoor living experience, so we make sure that our proposed features are well-planned and will suit your needs and lifestyle.
Here are some of the outdoor living spaces that we can design and create:
Patios
Pool decks
View decks
Outdoor kitchens
Gazebos
Pergolas
Outstanding Outdoor Living Spaces Guaranteed
Our primary aim at Border Creations, Inc. is to exceed our clients' expectations. To achieve this goal, we always put our A-game when designing and installing outdoor living spaces. We only assign experienced crews for the installation tasks to ensure quality workmanship and outstanding results. We also use premium hardscaping materials to give clients long-lasting amenities. Our partnerships with leading hardscape manufacturers in the country also help us provide clients with the perfect materials for their outdoor living projects.
Call us now at 813-926-2700 and let us make your outdoor living experience more fun and more enjoyable with the various outdoor features that we can design
and build.