About Us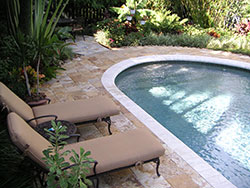 Border Creations, Inc. specializes in all phases of hardscape design and installations with the emphasis on Custom Pool/Spa Installations and restorations, Outdoor Kitchen Design and installation and interlocking paving patio installations for any residential and commercial applications.
Border Creations, Inc. is at the forefront of the Hardscape Design and Installation industry. We enjoy what we do, are constantly striving for excellence and warranty our work from the ground up. We help our clients envision the ultimate outdoor living project and help them create it.
Border Creations, Inc. will continue to be a dynamic leader in an expanding hardscape industry.
We would be glad to provide you with a list of projects that you could drive by to determine if a custom interlocking paving driveway, lead walk and front porch area would be worth investing in your own personal property. Our backyard projects just require a quick phone call to our existing client base.